| | |
| --- | --- |
| | With growing frequency, persons with disabilities submit questions regarding the accessibility of the city of Rome and in particular the accessibility of its museums and famous monuments. In response to these questions and other curiosities, we met with an operator in the sector - Accessible Italy who has been active in the field of tourism services for foreign disabled tourists in Italy since 1996. |
What is the current situation regarding accessibility for disabled persons in Italy, in particular in the city of Rome?
The staff at Accessible Italy has been working for many years with Italian children and adults with various disabilities and in recent years our staff has recognised the great difficulty encountered by individuals with disabilities when travelling around Italy, whether for pleasure or business. Due to this reason, Accessible Italy has decided to help in improving Italian structures and the accessibility of its museums, monuments and places of interest. Our starting objective commenced by improving some of the most important monuments and churches found within the city of Florence, which were inaccessible.
As far as the city of Rome is concerned, on occasion of the Jubilee celebrations in 2000, a great deal of restoration and restructuring work was done, comprising renovations aimed at eliminating so-called "architectural barriers" in many sites of historical and artistic interest and in tourism and reception facilities. For example, the Rome central railway station "Roma Termini", which has been restructured to modernise it and adapt it to the needs of a vast and diversified clientele, now has a reception centre for persons with disabilities, which can provide - upon request - assistance in the station of departure and in the station of arrival at destination. In Rome airports, where requested by passengers with specific need, a reception and assistance service is available for boarding and disembarking from the aircraft, as well as a waiting room and assistance in the departure, connecting flight and final destination airports. To move around the city with a personal vehicle, a disabled tourist, equipped with the special vehicle identification tag, may use the preferential lanes reserved for public transportation. In order to access limited traffic areas, non-residents in the municipality of Rome must inform the STA, largely in advance, of the day/days during which they intend to visit Rome, specifying the vehicle's license plate number and the vehicle identification tag number.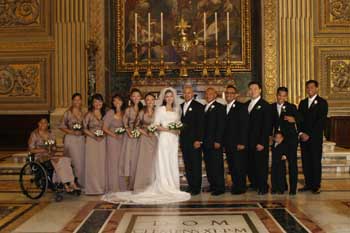 Despite the various restructuring works carried out on buildings of public interest, there are still palaces and services that do not meet accessibility requirements. To surmount the difficulties that a disabled tourist may meet, Accessible Italy represents an excellent information resource; we can plan accessible tours in Rome that respect the needs of differently able tourists. One of the most fantastic experiences in Rome is to move along the city streets and breath in the city's perfumes, listen to the city sounds, come across statues, monuments, ancient ruins when you least expect it. Missing out on all of this is like missing out on a part of Rome! Our experience with the various tour that we have organised in Rome has taught us that, although the roads in Rome are beautiful and airy and although visiting Rome is fantastic, touring Rome in a wheelchair on roads paved with sanpietrini (the characteristic paving stones of St. Peter's, with which almost all Rome's roads are paved) is sometimes complicated and this detail has been pointed out to us after every tour that we have organised. However, at the same time, the beauty of the Coliseum and of the other monuments makes you forget the difficulty of the "bumpy" ride on the sanpietrini. In Rome, your must be prepared to use the roads; moreover, sidewalks often do not even exist! But despite all this, we can say without hesitation that Rome is reasonably visitable on a wheelchair, with assistance.
Is it possible to rent wheelchairs?
Renting a wheelchair through Accessible Italy is rather easy because we have various wheelchairs available. Renting a scooter is a little more complicated because we do not have many and so it's best to book one in advance. One very interesting additional information is that in many cities, mini-vans with a life and wheelchairs are not available for rent. Accessible Italy gives your the great opportunity to rend accessible mini-vans with lift and equipped with safety-bolt that fixes the wheelchair, without a chauffeur! If you contact us, we will provide all the necessary information.
What can you tell us about the accessibility of the Vatican City and its famous monuments?
Public transportation is available in the vicinity of the St. Peter's Basilica and of the Vatican Museums. As far as the Basilica is concerned, there are no sidewalks immediately outside the square and there are no parking spaces reserved for vehicles with the special identification tag for disabled transportation. The entrance to the Basilica that is accessible for persons with disabilities in located in St. Peter's Square, to the right of the Basilica's facade. This entrance has been equipped with an elevator that takes your from Square level to Portico level. There are accessible toilet facilities. Currently, there are no aids for persons with sight impairments.
As far as the Vatican Museums are concerned, the external pedestrian route is accessible. Here, again, there are no parking spaces near the entrance reserved for vehicles bearing the special identification tag. The entrance area has a ramp and the horizontal pedestrian circulation is easy to navigate. There are accessible toilet facilities. There are no aids for persons with sight and hearing impairments.
Wheelchairs are available free of charge and may be booked in advance or requested at the "Special Permits" counter in the entrance foyer of the museums. Moreover, special, equipped tours have been prepared. To visit the Historical Vatican Museum the wheelchairs must obligatorily be booked in advance. Subject to pre-booking, Hands-on Tours may also be carried out.
I must say that a visit to the Vatican City, with all its monuments (Basilica, Vatican Museums, Papal Tombs, Cupola) is very tiring and I strongly recommend that the entire tour not be done in one day. Besides which, you risk an Art overdose! I suggest splitting the visit over two days: one day to visit the Vatican Museums with the Sistine Chapel, and one day dedicated to visiting the inside of the Basilica. And if you have the strength left after thatů you can dedicate some time to visiting the near-by Castel Sant'Angelo!
In short, Rome, the Eternal City, is a fantastic City, a concentrate of history, legends and monuments that would require weeks just to be able to discover everything that the city can offer to any tourist. We at Accessible Italy can help you by organising accessible services and tours both in Rome and in the environs and by providing all the information needed to make your trip to Italy pleasurable and easy! Please call us at Tel. from Europe: +378-941111 or +378- 0549- 941111; from US: 011-378- 0549- 941111 or 011-378- 941111 or e-mail us at info@accessibleitaly.com we will respond with all the details for travelling in Italy!