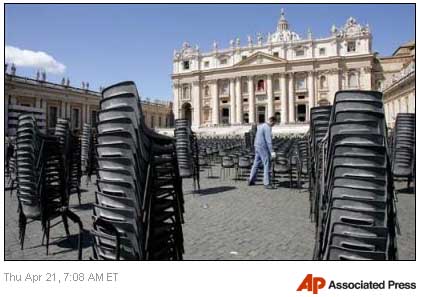 Workers set up chairs in St. Peter's Square at the Vatican, Thursday, April 21, 2005, in preparation for Sunday's open-air inauguration ceremony for the pontificate of Pope Benedict XVI. Former Cardinal Joseph Ratzinger of Germany, who chose the name of Benedict XVI, was elected the new head of the Roman Catholic Church on April 19.
(AP Photo/Diether Endlicher)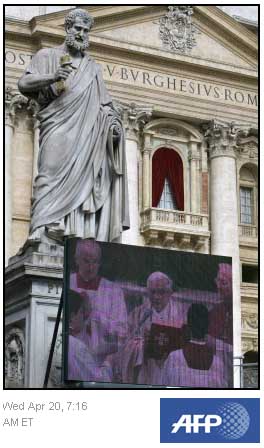 A giant screen installed in St Peter's Square shows the first mass celebrated by Pope Benedict XVI, at the Vatican City. Pope Benedict XVI pledged to work towards Christian unity and dialogue with other faiths as he set out the priorities of his pontificate in his first homily, saying he had been surprised by his elevation to the papacy.
(AFP/Mario Laporta)
Vatican workers clean the top of St. Peter's Basilica, April 22, 2005. Pope Benedict wants to serve rather than be honored during his papacy, he said on Friday, asking cardinals to help him overcome his weaknesses as he leads the Catholic Church.
REUTERS/Tony Gentile