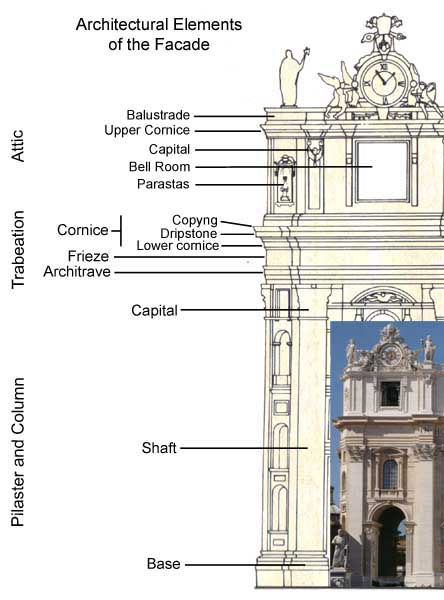 Source: Works On The Facade of St. Peter's Basilica
When Carlo Maderno started to build the facade, he was bound to the already existing Michelangelo's wings. He just put the attic all around the building, as planned by Michelangelo. That creation looks mighty and dynamic along the west side of the Basilica but is disharmonious in the facade. For this reason, at the far sides of the facade, Maderno planned two bell towers which lightened and soared the building. In 1621, at the death of Paul V, the ground subsided and the building of the two bell towers had to be stopped.
In 1646, Bernini tried to erect the bell towers again, but had to demolish the left-hand side bell tower because of cracks in the facade. Only the bases of the bell towers remain, two archways at the sides of the facade that seem to form part of it while they should have been separated. This was remedied in 1790 by the installation of two clocks designed by Giuseppe Valadier.
The eight gigantic columns of the facade are almost 10ft wide and 90 feet high.
The restoration of the facade and the 13 statues, begun in April 1985, was concluded on November 30, 1986. The original copper cross (1613) in the arms of the statue of the Redeemer, which was replaced by a new one during the work, was given to the Knights of Columbus in recognition of their support for the restoration.