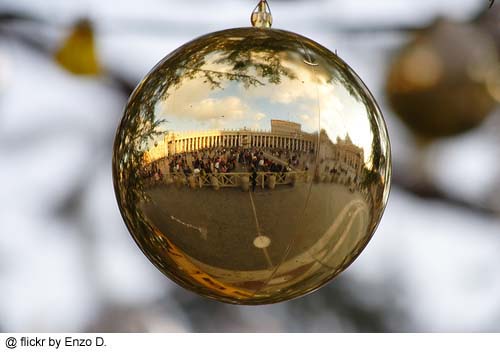 St Peter's Basilica and Square are reflected in a Christmas tree ornament. When the tree is taken down after the February 2nd Feast of the Presentation, some of the more than 2000 ornaments are given away as souveniers.


Christmas music from the Pontifical Institute of Sacred Music - Year 2000
Offertorium: Adeste fideles
Versione di Domenico Bartolucci Durata: 3:16 - 3,860 Mb Coro Polifonico del Pontificio Istituto di Musica Sacra; Walter Marzilli, direttore.




"When the time had fully come, God sent forth his Son, born of woman, born under the law, to redeem those who were under the law, so that we might receive adoption as sons" (Gal 4:4-5). The whole history of the world tends towards him, born in Bethlehem in order to restore hope to every man and woman on the face of the earth.

URBI ET ORBI MESSAGE OF HIS HOLINESS POPE JOHN PAUL II CHRISTMAS 2000