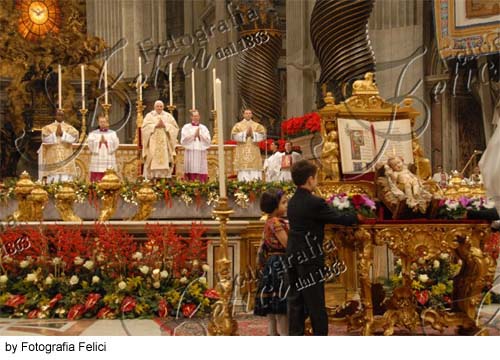 Worldwide satellite telecasts of Papal Christmas celebrations have been broadcast since 1974 thanks to the efforts of the Knights of Columbus who have continued to cover the costs of the satellite transmissions. The Vatican's Internet Office now also "webcasts" the Christmas celebrations via audio-video streaming, available through a link accessible on the Vatican's homepage at: www.vatican.va.


Christmas Music from the Pontifical Institute of Sacred Music
Introitus: Puer natus (Graduale Romanum) Time: 2:41 - 2.500 Mb
Virum Schola Cantorum Pontificii Instituti Musicæ Sacræ; Mons. Alberto Turco, director.
Gennaro Becchimanzi, Igor Glushkov, Blazenko Juracic, Raimundo Pereira (soloist), Hubert Siekierka, Djedje Thomas, Jan Velbacky.


"Come you nations and adore the Lord." With Mary, Joseph and the shepherds, with the Magi and the countless host of humble worshippers of the new-born Child, who down the centuries have welcomed the mystery of Christmas, let us too, brothers and sisters from every continent, allow the light of this day to spread everywhere

URBI ET ORBI MESSAGE OF HIS HOLINESS POPE BENEDICT XVI CHRISTMAS 2007