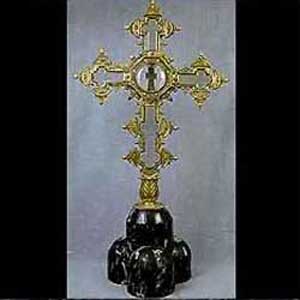 Cross known as "di Palazzo".
Rock crystal and gold-plated silver. In the center, Sacred Wood of the Cross. Fifteenth century.
The cross is composed of finely cut rock crystal elements that are joined to one another by a rich, gold-plated silver frame in the form of a cross that rises from a cluster of acanthus and stands on a high marble base. The relic case, also in rock crystal, containing fragments of the Sacred Wood of the Cross, is in the center of the cross. The chased work on the gold-plated silver frame is or remarkable elegance.
A few of the many items on display in the Treasury Museum