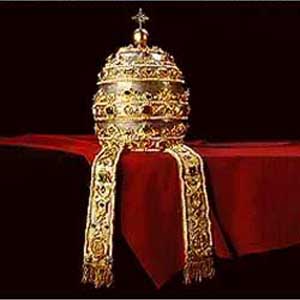 Papal tiara, or triregnum.
Gold-plated metal, silver, gems and imitation pearls. Roman work. Probably eighteenth century.
The tiara is of an unusual size because on June 29th, St Peter's feast day, it is placed on the head of Arnolfo di Cambio's statue of the Saint which is located in the Vatican Basilica near the Confessio. According to the sources, the custom of solemnly dressing St Peter's statue with papal clothes and a tiara supposedly goes back to the year 1736. The tiara was the head covering once used by the Popes starting from the ninth century, in solemn ceremonies.
A few of the many items on display in the Treasury Museum