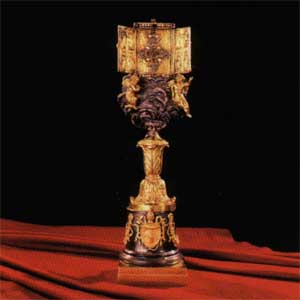 "Cross of Constantine".
Stauroteca. Small cross reliquary of Maastricht. Byzantine art. Sixth-seventh century.
This small cross with four disks on each end of the arms containing words in praise of the Holy Cross, and with exceptionally large pearls, was meant to be worn as a episcopal cross. It is enclosed in a rectangular case which opens with two small doors. A true masterpiece of the religious jewelry of Constantinople, the cross, which came from the sack of Constantinople in 1204, dates back to the sixth or seventh century, with subsequent interventions in the neo-classical style during the last century.
A few of the many items on display in the Treasury Museum