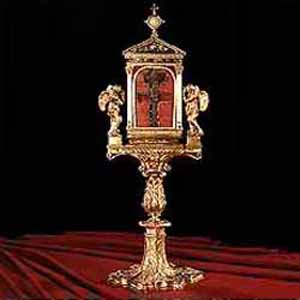 Reliquary of the Holy Cross.
Gold-plated bronze and silver. Roman work, Late sixteenth-early seventeenth century.
In the form of a tabernacle framed by small pillars and set on a high base, the relic has a tympanum above it on which a gold, Byzantine solidus is set. On the sides there are two small angels. In the reliquary, fragments of the Holy Cross are kept, which were found in the fifteenth century in the time of Pope Nicholas V in the oratory of Pope Simmaco (fifth century). Fragments of the Holy Cross were removed from this reliquary in 1466 by Paul VI, in 1590 by Gregory XIV, and in 1861 by Pius IX.
A few of the many items on display in the Treasury Museum