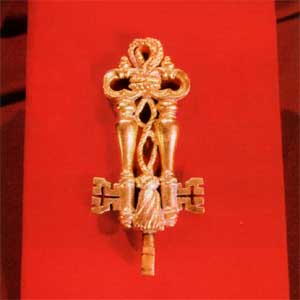 Key to St Peter's Tomb
Gold-plated bronze. Eighteenth century.
St Peter's keys, which are also called the Supreme Keys or the Sacred Keys, are the emblem itself of the Church of Rome, the symbol of papal authority, since Christ entrusted them to the Prince of the Apostles St Peter. In this work, the fine craftsmanship should be noted both in the bronze casting and in the precision of the chased work which can be appreciated especially in the cord that holds the two keys together and the pendant below.
A few of the many items on display in the Treasury Museum