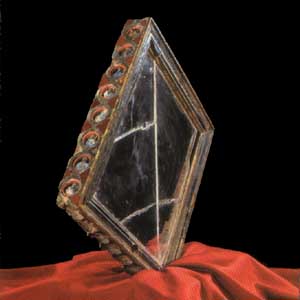 Frame of the "Veronica".
Roman art. Fourteenth century.
This square, a jour frame has two plate glasses. In the frame piece there are many small, round disks in which portraits of saints can be seen, some with the relative captions, and covered with small, crystal lids. Between the disks there are pieces of mosaic in vitreous paste. In 1350, ser Bandino da Guarsani and Francesco Inglorio Veneziani offered the frame to keep the relic of the Veronica, or the Holy Face, which was shown in ancient times to pilgrims every Friday and on holidays.
A few of the many items on display in the Treasury Museum