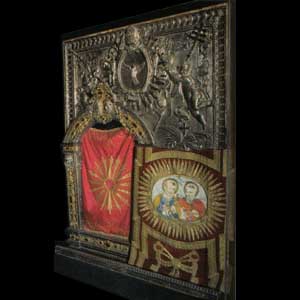 Large Silver Frame with Early Slavic Icon.
This wooden frame, covered with embossed silver, adorned the niche where the Urn is kept containing the Palliums, under the Papal Altar towered over by Bernini's bronze baldachino under Michelangelo's dome.
It is difficult to date the frame because there are no mint or master silversmith seals. Based simply on the formal characteristics of the work, the various ornamental embellishment and above all its workmanship, it could be said this it is a Roman work of the early nineteenth century.
A few of the many items on display in the Treasury Museum