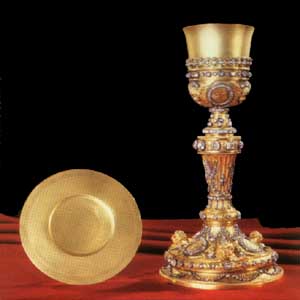 York Chalice. Chalice and paten. Gold with diamonds.
From the Valadier workshop in Rome. It belonged to Cardinal Henry, Duke of York, the last of the Stuarts, Archpriest of St Peter's (November 14, 1751 - July 13, 1807), and was left to the Vatican Basilica at his death on July 13, 1807.
The chalice chiseled in gold is embellished with approximately 130 diamonds. The bottom under the base bears the English royal coat of arms chiseled in relief. The chalice has the seal 'Valadie-Roma', which means Luigi Valadier who ran an art studio in Rome together with his brother Giovanni.
A few of the many items on display in the Treasury Museum