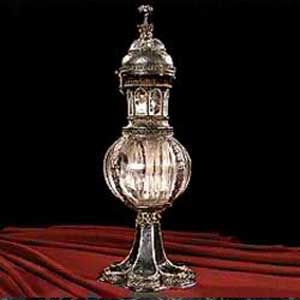 Reliquary of the Holy Lance.
Venetian art. Fifteenth century.
The reliquary consists of a gold-plated silver mounting on a six-lobed base supporting a rock crystal sphere. Above it there is an element similar to the "lantern" of a dome with six crystal elements. This is closed on top by a small dome and above there is a cluster of crisp leaves. The translucent enamels decorating the reliquary are also of special interest.
Crystal cut in such a precise way has been typical of Venetian workmanship since the high Middle Ages.
A few of the many items on display in the Treasury Museum