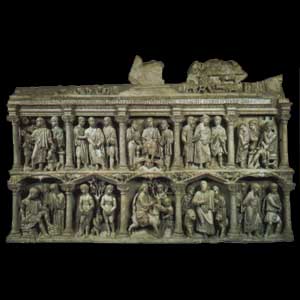 Sarcophagus of Junius Bassus
Marble. Fourth century.
Junius Bassus was the prefect of Rome in 359. The front of the sarcophagus, which was discovered in 1595 near the Confessio of the Vatican Basilica, is divided into ten compartments. On the upper part: the sacrifice of Abraham; St Peter between two soldiers; Christ between Saints Peter and Paul; Christ being led as a prisoner, and before Pontius Pilate. On the lower part: the patience of Job; Adam and Eve; Christ's entrance into Jerusalem; Daniel in the lion's den; St Paul being led to martyrdom. On the minor sides there are putti harvesting grapes on the left, and putti reaping on the right.
A few of the many items on display in the Treasury Museum