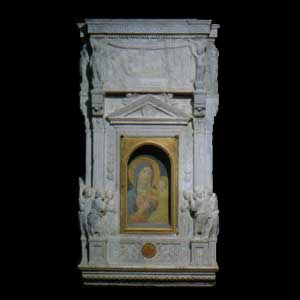 Ciborium (wall tabernacle).
Carrara marble. Work by Mino da Fiesole or Donatello. 1432.
By referring to ancient Greco-Roman models, the work is characterized by an expert architectonic composition with pilasters that frame a painting of Our Lady with the Baby Jesus, and the tympanum with small figures of angels. Other angels are placed on the base. The ciborium concludes with a high attic which is decorated, among other things, with a festoon.
A few of the many items on display in the Treasury Museum