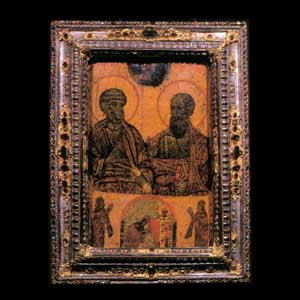 Early Slavic Icon depicting Saints Peter and Paul.
Serbian art. Thirteenth century.
The icon, in the traditional, medieval technique of painting on panels, depicts Saints Peter and Paul with Jesus Christ in the center in lesser proportions, perhaps in an attempt to achieve spatial perspective. In the lower part, in the center, there is a scene with a monk being blessed by a bishop. For a long time, the two, lateral figures were thought to be the brothers Saints Cyril and Methodius. According to recent studies, the icon dates back to the thirteenth century.
A few of the many items on display in the Treasury Museum